Who does not like to run after success, but we should not be surprised if new dimensions of success are established only by running. Yes, there is a person in the world who is faster than a leopard and who has won the gold medal in the Olympics thrice, which is a record in itself. Name is Usain Bolt.
Usain Bolt's full name is Usain St Leo Bolt, also affectionately called "Lightning Bolt" in the media.
At the age of just 12, Bolt became the number one runner in the 100-meter race for his school. People asked Usain to go to the track and field race. Bolt was coached by former athlete Olympic champion McNeil and his partner Dwayne Barritt. McNeil went on to play the role of Bolt's coach.
How Usain Bolt made an identity?
He made a distinct identity by winning the gold medal in the 200 meters at the 2002 World Junior Championships. Then Usain Bolt became a professional player in 2004. Bolt completed the 100-meter race in 9.69 seconds in the 2008 Beijing Olympics and set the world record by completing 200 meters in 19.30 seconds.
He broke his own record in the title of the 2009 World Champion. Due to this achievement, the media gave him the nickname of Lightning Bolt. He also appears in the biopic film I Am Bolt.
Usain Bolt's success stories
Usain Bolt found success in the midst of the 2002 domestic supporters. Bolt became the winner of winning the title of World Junior Champion at an early age. Bolt won a gold medal at the 2003 Youth World Championships. Completed 200 meters in 20.40 seconds. Meanwhile, Bolt was becoming very popular in his country. In the 2003 season, due to equalization in junior events, he got I.I.A. F. Rising Star Award.
Usain Bolt is a professional athlete
In 2004 Usain Bolt became a professional athletics player. Bolt completed the 200-meter run in the Bermuda Games in 20 seconds. Bolt then competed in the 2004 Athens Olympics and set a new record for his team. Bolt did not play at the Commonwealth Games in Melbourne in 2004 as he withdrew his name due to poor health.
Usain Bolt's World Records
In 2008, Bolt set a world record in 100 meters. Bolt completed 100 meters in 9.69 seconds. He competed in the Beijing Summer Olympics in 100, 200 meters. Bolt finished the quarterfinals and semifinals in 9.92 and 9.85 seconds by making it to the finals. However, in the final, he completed the 200-meter race in 19.19 seconds which became records.
Usain Bolt's personal life
Bolt is fond of dance. He was also interested in cricket since childhood, if Usain Bolt was not a runner today, he would have been a fast bowler in cricket. Usain is a fan of Portuguese players Cristiano Ronaldo, Waqar Yunus, Sachin Tendulkar and his compatriot Chris Gayle. Bolt lives under considerable discipline in personal life. For this success of Bolt, he was awarded the Laureus World Sportsman of the Year in 2009.
Usain Bolt's parents run a shop, as a child Bolt and his elder brothers used to play cricket and football, etc. in their home street. From childhood Bolt started taking a keen interest in sports. Bolt studied in his own village. Bolt used to participate in school rallies and sports competitions.
Usain Bolt had no money for shoes
In the World Athletics Championships held in Berlin in the year 2009, Usain Bolt shocked the world by breaking his own world record in 100 M and 200 M races and setting a new record of 9.50 and 19.19 seconds.
Usain Bolt Story in his mother's words
The childhood story of the world's fastest runner, his mother's word
This story is of a person who rose from the floor to the sky. The story of a person who used to play cricket in childhood, but today is making a splash in athletics and has become the world's fastest runner. You know him by the name of Usain Bolt, but for me, he is my favorite son.
My husband, Wellesley, runs a small shop in the village, so Usain was not able to get sports shoes in his childhood. The school management got him these shoes, which made his training speed up. Usain was born in Trelawny Parrish (Sherwood Content), a small village in Jamaica, where there were no streetlights and no drinking water. Where the elderly still sit on a donkey and move around and people have to line up in front of the public tap for drinking water.
Usain was hyperactive in childhood. When he was three weeks old, I went out of the room, lying on his bed. When I came into the room, I saw that he had fallen from the bed, but was trying to climb on it. At the same time, I realized that this is not an ordinary child. He was born a week and a half later. I think so. His pace must have been slow at that time only. My father first noted that there is something special in this child.
From then on I started paying attention to Usain's food. We were admitted by Usain at the William Knibb School. Principal Lorna Thorpe told us after a few days that our son is very good in sports, so the school will also take care of his training. When Usain became the champion in Beijing, Thorpe's happiness was worth watching. After the record was made in the Beijing Olympics, after that success a lot of money was flown in the village.
-Mother (Jennifer Bolt)
Inspiring words by Usain Bolt – Quotes
Here are some inspiring quotes from Usain Bolt which help you to achieve success.
Usain Bolt Quotes
I know what I am capable of. So it does not bother me what other people think or what they suggest in my situation?
There is no way to name "easy". Not a day off. Never give up. Be fearless. Your skill is natural. But skill is developed only after working hard for hours and hours.
I just accept a few things and it makes it easier for me. I agree that I will be injured. And, I agree that I cannot win every race. I work hard to reduce the chances of all these things happening. Still assuming that it will be all. Most people do not accept these things when they are injured and then become weak.
You have to set your goals so that you can force yourself to work harder. The desire to achieve the goal is the secret of success.
Worrying doesn't take you anywhere. If you start worrying about how your performance is going to be? So you have already lost. Work hard, concentrate, run your best and others will pay attention to you.
When you are at the top and everything you do there is win, win, win, win. You are a little dull and divert your attention from your work. When you lose a race, it opens your eyes and you become serious. There is always a time when you need to lose, which brings the best time for you.
I like the competition. I am a good competitor. And, I definitely need to win because I don't like losing at all. I am the type of person who if I know that I will not win, I will not take part in the competition.
Usain Bolt Quotes
Below are some Usain Bolt quotes or inspiring thoughts.
Trust your dreams and because everything is possible.
I thank God for everything I do. Because of that, all this has happened. Nothing could be possible without him.
Win yourself.
I work hard and only then I excel and I enjoy them all.
I know what I am capable of. So I never doubted myself.
He is a better starter than me but I am a powerful finisher.
I do not like to lose under any circumstances.
Do not think about the start of the race, think about the end of the race.
I never let the pressure dominate me.
I try to live my life in the best way but I always advise you that you too should work hard and give your best in your work.
Also, Read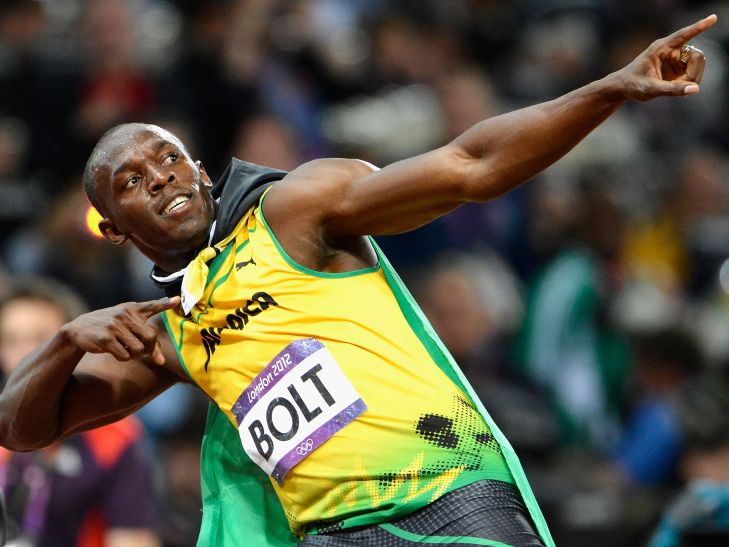 Some Interesting Facts about Usain Bolt
Here are some interesting facts about Usain Bolt, his life and career.
Usain Bolt was born in Jamaica. Now if you are fond of cricket, you must have heard this name – Jamaica. It is the famous island of the West Indies from where the world's fastest bowlers in the cricket are Michael Holding and Courtney Walsh. He made Jamaica shine on the map of the whole world. Moreover, you will be familiar with the deadly batting of Chris Gayle who comes from Jamaica.
Usain Bolt is rich in amazing talent since childhood, referring to this, his father says that "Usain Bolt was just 3 weeks old, his mother left him for some work by laying him in bed, then Usain Bolt was sliding right to the edge of the bed. They had come and been trying to escape falling. Such maturity at such a young age shows his remarkable talent.
Usain Bolt's parents run their own shop in the village and on getting free time, Usain Bolt himself helps in the work of his parents' shop. And not only this, Usain Bolt likes to live in the village with his family.
Usain Bolt was so fond of playing since childhood that he was so lost while playing that he forgot everything. Bolt used to spend time playing cricket and football in the street with his brother.
Referring to Bolt's love for sports, he says that "when I was young, I really could not think of anyone other than sports". This love for sports has made Bolt a deserving king of the world's fastest runners.
At the beginning of his life, Usain Bolt wanted to become a cricket bowler and his favorite player was Waqar Yunus but later became famous as a runner.
At the age of just 12, he recognized his talent by running in his school's national primary competition and became the fastest runner in his school by winning the 100-meter race competition.
From the start, Usain Bolt used to concentrate on cricket, bowling on the cricket pitch. During this time, his coach was very impressed with Bolt's running speed and advised him to become a runner. After this, after completing the 200 meters competition in junior high school in just 22.04 seconds, he won the silver medal.
Usain Bolt had become 6 feet 5 inches at the age of 15, who was the tallest among his friends at that time.
Amazing Facts about Usain Bolt
Bolt had a hamstring injury in 2004, despite which he was made part of the Jamaican squad for the Athens Olympic Games. Due to which, in the first round, he had to be eliminated after losing the 200 meters race. But Bolt still did not lose courage and later set many new records.
Usain Bolt has set world records by winning gold medals at the 2008 Beijing Olympics, the London Olympic Games in 2012 and the Rio Olympics in 2016, which is the record by any athlete to break his own record.
Bolt loves to dance. His fame can also be gauged from the fact that his loved ones and opponents also treat him with respect.
If Usain Bolt had not been a runner, in today's time he would have been a fast bowler of cricket, which has revealed that he can be seen such a madness towards cricket.
Usain Bolt holds the record for fastest run in 100 and 200 meters, becoming the first runner in the world to make such a record.
Usain Bolt's best performance was 9.58 seconds in 100m, 19.19 seconds in 200m, and 45.28 seconds in 400m which is a world record in itself.
After the failure in 2004, he has become very disciplined in his personal and sporting life, after which he has established many success stories.
Usain Bolt is a big fan of Indian cricket player Sachin Tendulkar, West Indies opener Chris Gayle and Australian opener Matthew Hayden.
After winning the gold medal in 2016, Usain Bolt said that he was only one step away to become immortal.
South Africa's Wyd Van Niekerk also considers Bolt his ideal in the 400-meter run at the Rio Olympics 2016 and he has been inspired by Usain Bolt to advance in the world of speed.
His favorite color is green.
In the early days, Bolt did not have much interest as a runner when McNeil became his first coach but was often disappointed by his indifference to his play due to his laughter and witty nature.
You may be interested in
Last Words
Although every human being grows up in poverty, if we see Usain Bolt's childhood, then any youth can take inspiration from the struggle and success to move forward in their life.
How was this article about Usain Bolt Success, his life, inspiring quotes of Usain Bolt and, Interesting Facts about Usain Bolt? Comment if you are inspired. Share with friends. We wish you success. Good luck.