Coffee lovers entering this line of business is nothing out of the ordinary; it is, after all, a natural extension of their profound love for the exquisite bean. For some, the thought of pouring coffee to its legions of admirers or presiding over the espresso machine behind the counter alone is a dream come true.
While others are driven to the coffee industry simply by the prospect of making more money. Either way, starting a new business is not all roses and daisies, and without proper guidance, you are bound to doom. Here are the seven tips to get your business running:
1. Have a Business Strategy
The first step to opening a coffee shop, like any other shop, is to come up with a concept and a business strategy. Start by deciding what type of coffee do you wish to sell? Then, who is your target customer? Next, what is your price range? And the most important of all, who are the competitors in your neighborhood?
Once you have a clear idea of your competitors, only then you are able to constructively build your strategy. After all, competition breeds the best results. Also, be clear about what you can do to outperform them. Will it be based on cost? Quality? Or service? And be sure to let your staff know what your main goal is so that everyone can work together collectively as a team to achieve it.
2. Find a Strategic Location
If you are opening a brick-and-mortar coffee shop, you need to narrow down your target market first. Choosing the best spot entails far more than simply choosing the location of your dream. It is all about being visible to your customers, adhering to your state's regulations and laws, and especially staying within your financial means.
Bear in mind that restaurant premises are usually high in demand and are difficult to come by. You would have to put forth extra effort just to find the ideal one. Make sure to expand your search on foot and not just online on your Android phone. Go scour the city, scout each location, and be sure not to leave anything amiss.
3. Create a Strong Advertising
There is an array of marketing strategies available on the net. However, implementing a unique blend of strategies does not constitute an engaging marketing plan. The ideal methods and channels will be the ones that suit your overall business plan and what you are selling. For starters, consider advertising your shop by putting your company's name in the hands of your customers.
Coffee cup sleeves are both inexpensive and distinctive, allowing your advertisement to stand out among potential buyers. Foot traffic is also pivotal for any business. You can create an appealing storefront to entice more customers by stationing an employee outside to greet customers and provide complimentary samples or decorating your walkway with murals or flowers.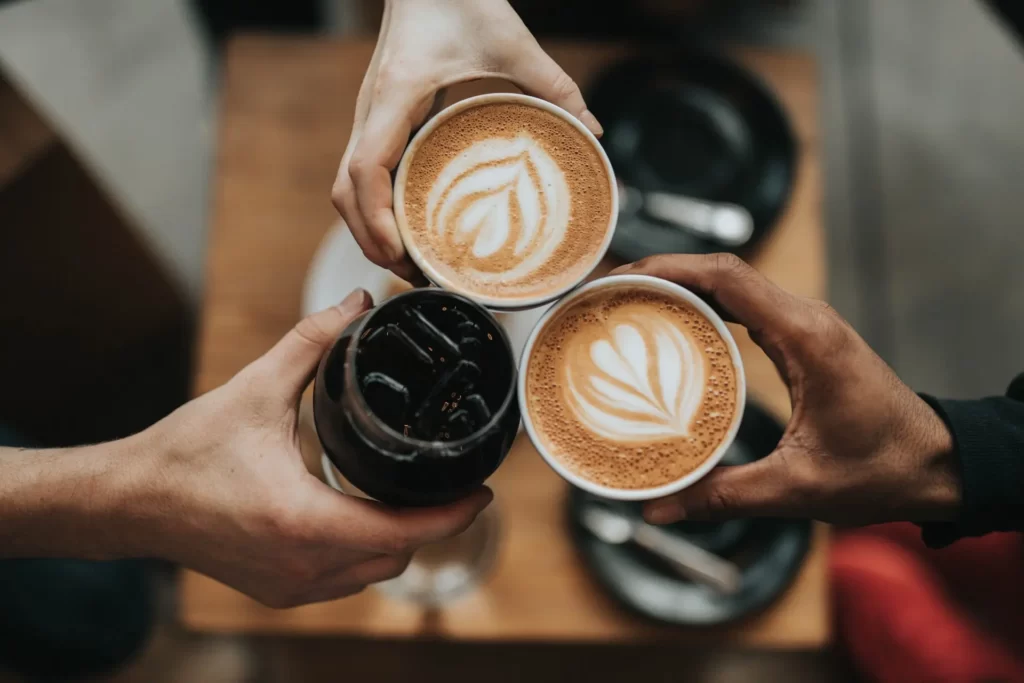 4. Offer a Loyalty Program
There are two options for a loyalty program– paid and unpaid —each with its own benefits. You can start by offering a membership fee in exchange for benefits such as a 5% discount on all drinks. Or you can opt for the unpaid ones, which will be based on a points system in which a set number of points gives clients various prizes such as free coupons or small discounts.
Loyalty programs are effective because they bound the customers to your shop. It offers them a reason to return, whether to redeem or to make new purchases. But either way, it builds customer retention and fosters rapport between them and your shop. You can think of it as a garden. The more you tend to your loyal ones, the more benefits you can both reap.
5. Provide Great Customer Service
Going to a coffee shop is about more than just drinking good coffee. If customers are willing to spend at your shop, you best bet that they will also expect an excellent customer service experience. Understand that customer service has the power to either boost your sales or plummet them back down to where you first started.
Once the front bell rings, they know that they expect prompt service, from a hearty welcome to receiving checks and everything. But most importantly, they expect professional and courteous treatment. So, here are a few skills you should be on the lookout for when hiring: empathy, clear communication skills, time management skills, multitasking, and some others.
6. Build the Right Atmosphere
The right atmosphere will not only take their breath away but also encourage them to spend extra money and time at your shop. As you invest big bucks and countless hours into your business, you surely know how important the little things are. On the other hand, if your customers do not naturally know where to stand, they may get irritated and are less likely to return.
If your overall design does not correspond to your target demographic, they may feel disconnected and will not want to come again. Keep in mind that there are a lot of things to consider, from color palettes to table placement to brightness. With so many variables in play, you might want to reach out to some professionals who are deft in designing.
7. Be Cautious with Your Money
It goes without saying that you must have a budget before purchasing anything, let alone starting a business. The principles of financial planning include regular cash flow management. Because of the rapid and frequent turnover of product prices, the number of customers can never be stagnant.
One minute you have a hundred customers a day, and the thing you know, only a few customers managed to walk through your door. Also, try not to spend much on pricey equipment. A budget coffee machine is more than enough to get you started. Never forget that your company's survival is dependent on what is in your bank account. So, every rand and cent must always be triple-checked.
To thrive in business today, you must be highly adaptable. Many people start a business with the expectation of instant profit, only to discover that earning profit in business is considerably more challenging than anticipated. Fortunately, though, you can avoid this by following all the tips mentioned above.