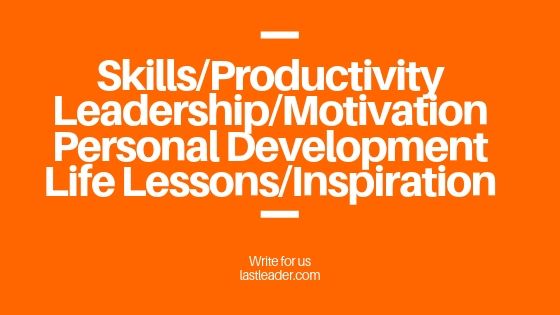 Hello friends, welcome to the website LASTLEADER.COM. Now you can write for LASTLEADER.COM by sending your guest articles on our website.
Before you submit Post take care of a few things:
Your content must be unique and not copied from anywhere. We will publish your article only after seeing the quality of it properly.
We will try our best to publish the approved article as soon as possible with the author's credit. The article you send to us cannot be published on any other website. If you wish, we will give your blog a DOFOLLOW link.
Read Before Sending Paid Guest Articles
It would be great if you write a post that agrees with one of the categories of our blog or any other motivational and informative topic.
You can write in these categories for LASTLEADER.COM
Leadership
Self-development
People Skills/Soft-Skills
Marketing/Sales Skills
Network Marketing
Interview Skills
Increasing Productivity
Personality Development
Inspiring People
Motivational Stories
Book Reviews
Home Improvement
Terms and conditions for your Article-
The article you send must be completely new/unique and should be written by you. The article copied or translated from another website/book will not be approved in any way.
The length of your content should be at least 1000 words.
There should be no review of any product or marketing of any product. If you want to publish a review of a product, then click here and send your message.
Your article should be in the English language.
The topic of the same article should not have already been published on our site.
Write all the required information given in the article, do not send a half or incomplete article.
You cannot publish that article on any other website.
Once published, the article will not be removed.
Try to send a related picture with your article, but the image should not be taken from any other website. It should be either a picture you took or a free image.
Submit your Post (Paid Only)
You can send me your post on the email id shown below.
For any kind of information or questions, please contact us directly through our email. Our email is [email protected]