What is a Personal Skill?
Personal skills also referred to as "soft" skills, are an individual's traits or characteristics related to social interaction in various ways. They are also transferable because your personality and style will automatically be reflected in any company where you are employed or in your personal life.
Examples of personal skills are flexibility, problem-solving skills, communication, positive attitude, work ethics, collaboration, etc. These are just a few personal skills examples; we will discuss all important examples in this article.
Personal skills development:
Personal skills are harder to build, making them extremely useful in the eyes of hiring professionals. Soft skills can greatly complement your hard skills to make you a complete candidate who will make an asset on any staff.
Why is personal skills development necessary?
Personal skills are essential for professionals across all industries. A strong set of personal skills can help you stand above the rest when looking for the perfect job. There are a variety of important personal qualities that employers seek in prospective applicants, with the most sought-after skills including analytical thinking and interpersonal skills. We will explore some of the best personal skills to develop, which are in high demand at this moment.
Personal Skills List: 
There are many ways to list or classify personal skills, but here we have classified skills in two categories and explained personal skills to develop in life and the workplace.
Personal skills list is:
Interpersonal skills: teamwork, leadership, communication, work ethics, 
Intrapersonal skills: time management, health management, positive attitude, self-confidence, cycling, yoga, flexibility, problem-solving skills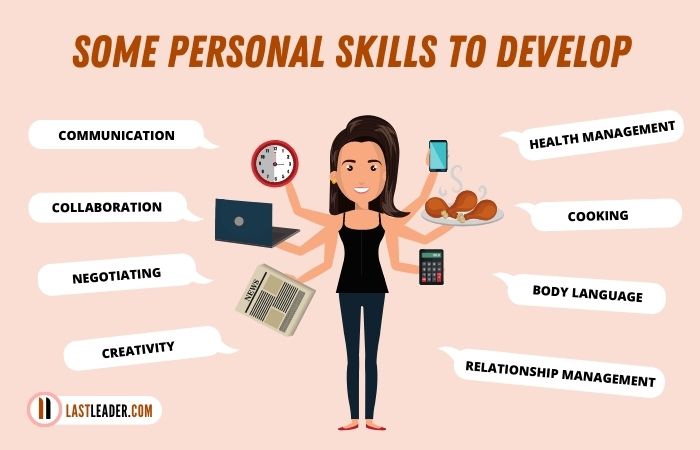 What is an interpersonal skill?
Your interpersonal skills are your ability to interact and communicate with other people. It is perhaps the most crucial personal trait to list on your resume or to show others since it is required for nearly every job and is extremely valued by employers! An ally of interpersonal skills, communication abilities are vital when interacting with others at work.
Interpersonal skills are defined as the skills or ability of a person that comes into effect while interacting with another person or group of people.
Interpersonal skills meaning:
To understand interpersonal skills meaning, we break this into two parts "inter" +" person". "Inter" means between two or more, and "person" refers to people. By combining these terms, the meaning of interpersonal skills becomes skills that come into effect when a person communicates or talks with others.
Why are interpersonal skills important?
Everyone knows people who are naturally "People-Person" who can easily get along with a variety of people. Employers to find someone who can blend into any social group and change their manner of communicating in a flash is similar to getting an employee who is the Holy Grail.
Apart from job roles, these skills are important in doing business or interacting with others. It will leave a good impression on other people if you communicate with them delegated.
Interpersonal skill examples:
Interpersonal skills are something we all need all the time. When you transition into the workplace, your interpersonal skills will become essential.
Here are some interpersonal skill examples:
Communication skills (that may be verbal, written, or listening), 
Collaboration, 
Ability to work with others effectively, 
Negotiating and resolving disputes
Effective Interpersonal skills to develop:
Some effective interpersonal skills to develop that help us in working efficiently in any workplace and systematically managing things.
1. Teamwork skills
The teamwork skills you have are how well you interact together as a group.
Teamwork is a crucial aspect of communicating information with each other, helping solve problems and collaborating to achieve common goals, dividing tasks among the team members, and so on. Teamwork skills are among the top personal skills to develop as everyone in the workplace has to work with a team.
The reason employers are attracted to teams is that every member, regardless of their role, will work with other people to accomplish certain goals. We are all team players. Employers prefer those who have or demonstrate excellent teamwork skills.
2. Collaboration
Collaboration allows teams to collaborate efficiently and produce positive results for both the client and the business. The majority of tasks require that you collaborate alongside others. Being an effective team player means you'll place the success of your project above your success. Collaboration is also about being attentive to other people, recognizing the teammates' strengths and weaknesses, and knowing when to follow and when to lead.
Effective collaboration requires the capacity to work together and respect one the other.
Employers typically seek candidates with a proven track record of success in teams and applicants who can compromise and work together to produce outstanding work.
Working in a team even in stressful situations is an excellent reason to apply for employment. You should present yourself with positive attitudes and convey your enthusiasm for collaboration and building teams.
3. Leadership Skills
Leadership is an important quality to possess even if you're not in a leadership or management job.
It is because leadership comprises a variety of other elements that are essential to any employee, like taking full on the burden of one's actions and errors as well as having a vision for the future and not being short-sighted and being productive in all circumstances and guiding others to a successful outcome.
Recommended Personal Skills to Develop:
You have these qualities means that you don't require someone to feed you or help you regularly to complete your task. An effective method of demonstrating the qualities of a leader on your resume is to include any leadership positions you've been in the past
Project manager
Class representative (in the university or college)
Coach, leader, captain of a sports team or club.
If you're in a managerial job or are a project leader, leadership skills involve motivating others. The ideal person who is a leader is confident and can communicate effectively. They need to manage the diverse personalities of their team and take responsibility for the tasks they oversee.
4. Communication Skills
Every job that you can imagine requires the use of communication. It doesn't matter if it's via the phone, by email, or in-person being a great communicator can make life easier for all those around you. In the list of interpersonal skills, communication skill is a must develop skill.
The communication process is always a dual road. Therefore, things such as listening, making good inquiries, and keeping a clear body language are all part of the broad category of communication skills.
5. Work Ethics
A strong work ethic is considered to be a plus by a lot of recruiters. What exactly does the word "work ethic" refer to? Then, we could break it down into three distinct three strands:
Respect is a must in any workplace. All jobs have you working under pressure at some point or another. Whatever the deadline or how heated the situation may become, be sure to maintain your calm and calm. Practising the grace to handle stress will get you more attention.
Reliability – Employers must be confident that they have employees to count on. If you're always punctual, prepared, and can deliver your work on time as you say you'll do, it demonstrates your commitment to work and dedication to your employer.
As with motivational self-motivation, a strong work ethic is a conviction that a commitment to work comes with intrinsic quality. Anyone with a good work ethic does not require the help of a stick to get motivated to complete one's work to the highest level of one's abilities. They are enthusiastic about their work and are proud of their work.
People who have a strong work ethic show several of the characteristics listed above and combine them with a positive outlook.
6. Relationship Management
In the list of interpersonal skills, relationship management must be your top priority to develop this skill if you want to grow your business or career. Effectively forming relationships is one thing, but managing them is completely different.
Relationship Management is a crucial skill in various positions, from junior posts to managerial positions.
At all levels of an organization, you'll be required to interact with partners, colleagues, as well as clients. The ability to manage relationships built on respect for one another and trust is crucial in any work environment.
7. Receptivity to Feedback
Personal skills development is necessary to stand out from the crowd in this competitive world. Open to constructive feedback is a great way to grow professionally and personally.
Consider all feedback as an opportunity to grow and don't react with defensiveness. It can take some time and practice, particularly in negative feedback. But always breathe deeply and think about how you can make improvements.
To take in feedback, first, take a moment to listen. Don't think about how you can respond; instead, pay attention to what's being spoken. Consider what you've heard and apply it to increase your performance and efficiency.
8. Conflict Management
One of the most important interpersonal skills for team members is managing conflict, particularly those pursuing the leadership role. Conflict at work can affect productivity and can cause negative feelings. Effective conflict management skills include empathy, diplomacy, negotiation, assertiveness, and compromise.
The ability to express your opinions or defend the viewpoints of others appropriately and respectfully is an essential skill to have in the workplace.
9. Workplace Etiquette
Learn how to conduct yourself in the workplace. Your manner of interacting with other people can be a powerful indicator. It's the best way to leave an impression on the people you interact with.
Please make sure you are in a good posture, make sure that you are standing straight, looking directly at the person you are talking to, and smiling at them.
The formal dress codes of the business and make sure your accessories like bags, ties, and jewelry are appropriate for the workplace. Make sure you show respect and kindness and show up at a good time each morning.
Intra-personal skills:
Intrapersonal skills are also defined as "within the self" skills, which means our behavior and abilities to manage challenges, learn new things and fight with challenges.
Personal skills development is necessary to grow in business or work or interact with others. Below are some intrapersonal skills that we have to develop for a better personality.
Top personal skills to develop:
1. Body Language
Non-verbal messages are frequently ignored; however, don't forget to consider how you might read the body language you use and your gestures.
Things to consider when you interact with other individuals include:
Eye contact
Expressions on the face
Gestures
Personal space
Position and posture of the body
Your body language can determine how your verbal message (your phrases) is perceived. In reality, your body language can influence your communication skills greater than every other aspect.
2. Active Listening
Active listening comes among the must-have skills from the personal skills list. If you want to improve your skills, the most important thing you have to develop is how to listen actively.
A lack of listening ability could have devastating consequences, ranging from failure to follow the manager's instructions to not following through on the customer's request.
The ability to listen will allow you to comprehend and gain knowledge from others and react appropriately to what they're saying to you.
Using non-verbal signals to show that you're paying attention (by nodding your head or keeping eye contact) can also help build confidence, as those you're working with will feel respected.
3. Passion and drive for personal development
Employers are more attracted to those passionate about their work, performing tasks with perfection, and eager to tackle the next task. They lack passion and motivation. A business doesn't want to hire someone who takes forever to complete simple tasks or grudgingly ask them to do something.
What can you show this on your resume? It is possible to make use of CV-related keywords like "passionate", "driven", and "motivated" in your descriptions of your previous employment, achievements, or future career goals.
4. Initiative
Your initiative is your capacity to start or initiate things by yourself. This means that you don't just sit back and expect things to happen or be common to you. You create things that happen and create opportunities for yourself. You always take the first step whenever needed and never rest when faced with obstacles or difficulties.
How do you show that you're a proactive person on your resume?
Include any tasks, projects or projects you've initiated on your own.
Give any suggestions, improvements, or concepts you've made that have been helpful to people at a previous job(s). For instance, you might have suggested creating a new system for IT.
5. Self-Confidence
A high confidence level in yourself at the workplace can help make it easier to impress your colleagues. It will also show how you handle different circumstances and handle these situations positively and effectively.
For success in your career, you need to show self-confidence throughout your professional career, regardless of whether you're a recent graduate searching for an entry-level job or an established employee hoping to be promoted.
Confidence in yourself at work will increase how people view your opinions and views. Opinions and ideas are taken more seriously. Confidence is a great asset when you interact with others since it will ensure that you can communicate your message clearly and provide an impactful contribution.
There is no way that a boss would like to dictate how you should do your job every single minute of the day. It's crucial to be a great partner and a great listener. It's equally essential to be motivated by yourself.
Being proactive will make you stand out in any position. Being driven to be successful in every task is vital to the company's effectiveness.
6. Positive Attitude
Being positive even in the most difficult of situations is essential. Start by being positive as you complete your application or compose a cover letter to an interview, your first working day, and the next day.
Please do not say anything negative about your former or current employer, regardless of whether you are strongly influenced by it.
People who have a positive outlook are more likely to interact with others with respect, resulting in a more positive and harmonious atmosphere.
7. Skills in management and organization
Organizational and management skills are vital personal qualities needed in the majority but not all positions.
Studies have shown that the majority of projects fail because of poor management. Well-planned management of resources, time, and focus, can do wonders at work and ensure that most activities, projects, and companies succeed.
It's no wonder that a majority of applicants say they possess "excellent management abilities" on their resumes!
8. Responsibilities
The most important thing to be a reliable employee is to show consistently on time each day. Being reliable, however, is about being someone who individuals (co-workers or customers) can rely on for assistance in any circumstance.
It's about being aware of what's expected from you and taking responsibility for what you do, even when you make an error. Resilience and dependability are the most sought-after traits which make for a great employee.
9. Time Management
Time management is a top requirement in this competitive world in the personal skills list. Being capable of successfully managing your time is vital to any position. Planning, prioritizing, and scheduling is just a few aspects of managing time.
Being organized and meeting or exceeding deadlines will make you stand out to your boss, and you'll be able to enjoy more independence. Opportunities appear when you have demonstrated an excellent ability to manage time.
10. Willingness to study
No one knows it all. People think that they are, but they aren't. Employers are seeking people eager to develop and learn new abilities and skills.
The best way to demonstrate your desire to learn is to write on your resume that you have accepted this job to develop professionally as a person or personally (whichever you can do so).
11. The ability to manage stress and be able to meet deadlines
The level of stress and pressure can differ from one job to another, such as when comparing the work of a surgeon with the job of a cleaner. Candidates for most jobs are likely to be under extreme pressure or stress to have something done or resolve a problem on time.
Employers want to see if the candidates can withstand pressure or remain calm to complete the task on time. One method to assure potential employers of your ability to manage stress is to mention this in your resume by citing concrete examples of situations where you showed this skill.
Examples include:
Dissolving conflicts
Responding to complaints of angry customers
Previous experience in a high-pressure or fast-paced work environment
Making deadlines that are tight on time and within budget
12. Flexibility
Flexibility is crucial because entire industries are always evolving, not to mention individual jobs. This can be triggered by competition, shifting expectations of customers, or technological advancements. The businesses that can adjust to changing circumstances endure, while those that cannot or don't adapt are likely to go out of business. This is why the ability to adapt is a sought-after personal trait in any job-seeker.
Do you have the ability to deal with new situations?
Do you have the ability to adapt to the situations you face?
Do you have the ability to finish a job in more than one method?
If you can, you can be considered a flexible person!
The only constant thing in life within a business is like everything else. Being an employee with a sense of flexibility who can adjust to any situation when it comes up is an extremely valued trait.
There are times when you'll need to complete a task that's out of your comfort zone. Being able to adapt means that no one has to watch you while you're doing it. The ability to adapt to new technologies, environments, or procedures will make you an employee who will be around for the long term.
13. Problem-Solving Skills
Employers don't want to guide you through every issue in your work routine. The job is an array of issues that must be dealt with, and those who have the ability, imagination, and confidence to deal with the challenges are highly valued at any level.
Although some issues require hard skills to resolve to be a successful problem-solver is also knowing the right people to collaborate with when problems arise.
14. Critical Thinking
Critical thinking is the process of using the analytical view to solve problems. A strong critical mind not only aids you in performing your assigned task efficiently but can also help you come up with more efficient ways to complete any assignment, current and in the future.
A critical thinker can help the business grow, evolve to change, and grow, and is essential in every position in any industry.
15. Creativity
A business can't expand or develop without creativity. Thinking outside the box about processes, practices, and challenges can help a business save lots of time and cash.
It is essential to be creative in all jobs that require material, either internally or externally. In reality, anyone capable of challenging existing norms and providing fresh ideas is an asset to any company.
16. Professionalism
Last but not least should be the importance of professionalism. Professionalism is about being confident, mature, and accountable for all tasks.
It is also about showing integrity and honesty throughout the day. Professionals can still be enjoyable. However, they also know the right time and place for all things. A professional employee is one who you can count on to conduct business the right way, ethically and procedurally.
These are some personal skills necessary to develop by a person to succeed in life and career. A person who develops these skills will seem very different from others. I hope you will find this article helpful.